Avantika is a dance & performance artist from India. Her residency is from Nov 2021 – April 2022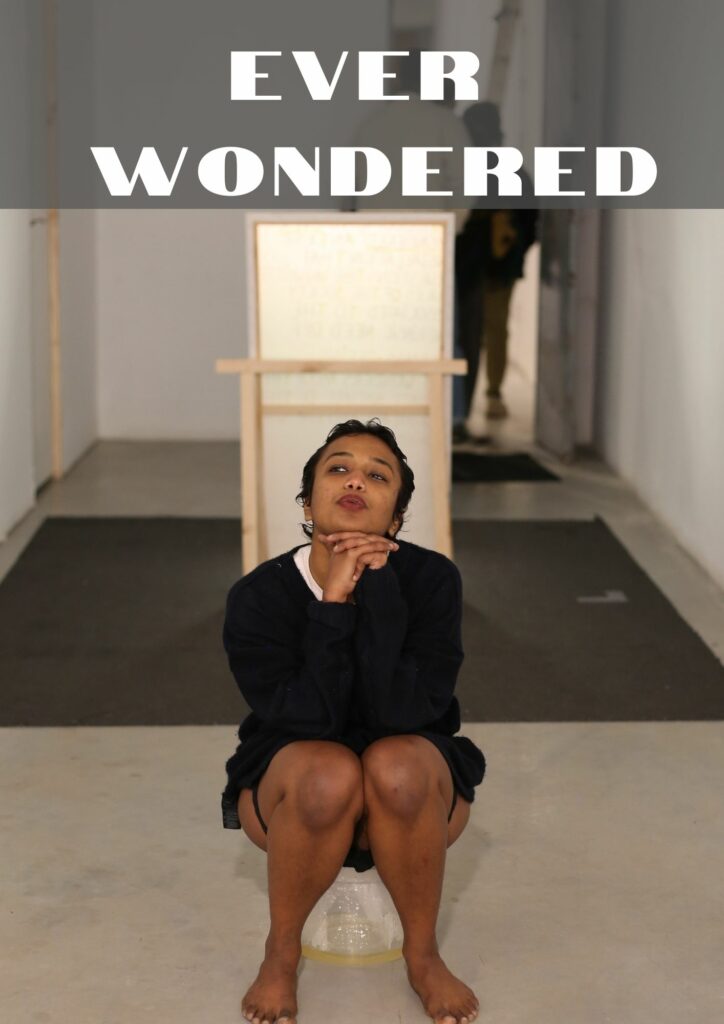 About the performance:
Ever Wondered is a performance installation questioning the social norms prevalent around the basic and intrinsic human act of urination. Avantika questions why humans urinate behind locked doors when it is as much a universal physiological need as eating or breathing. What causes the shame and vulnerability around urination?
Avantika's performance aims to raise questions about the choices humans make and if these choices are conscious. Generally the unwritten rules of society govern our daily life, but what if those rules were reversed?

While the installation will present the "offensive" act of urination, there will also be a chance to get a glimpse of Tika's research, which includes documentary videos that expose what we as individuals think could possibly be the reason behind the secrecy of urinating and if we sincerely agree to it or if it is a mindless adherence to subliminal social dictates.
Avantika will present this work-in-progress on the March 26th 2022 as a part of Integendeel Festival, hosted at Plantage Dok.
About Avantika's work practice (in her own words):
"My work and expression center on movement and the physical language of the body.
Movement is what I do and is what I know best, however, recently when I ventured out to create my independent projects I found that movement is just one of the tools I can use, it is not an exclusive tool for creating a performance. In the process, I discovered that installations and exhibitions can be holistic, multidisciplinary and immersive.
A dance creator is not necessarily tied to the rules of dance to create a body of work. I grew increasingly aware of my natural inclination which provides me with an array of perspectives and information, taking the viewers on an active journey, thus breaking the passive viewing of the fourth wall between a stage and the spectator. This resonates deeply with me as I believe that the future of art is more about the experience it provides."
Visit Avantika's YouTube channel for more examples of her work.