Dia de MuertXs benefiet
4 November @ 5:00 pm

-

11:00 pm

€15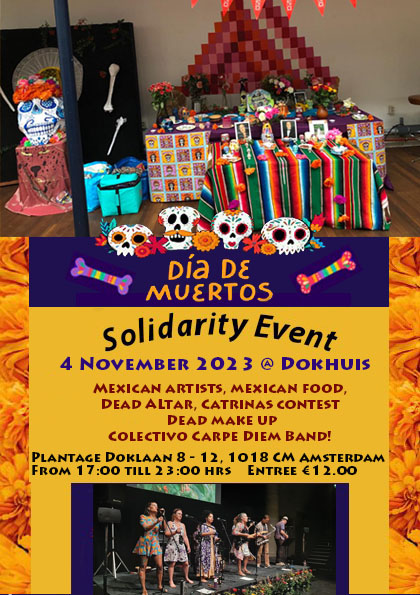 Mexican artists, mexican food
dead altar, carinas contest,
dead make up, Collective Carpe Diem Band!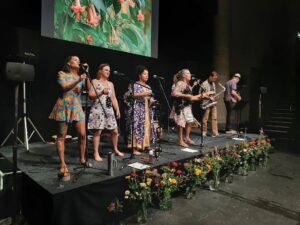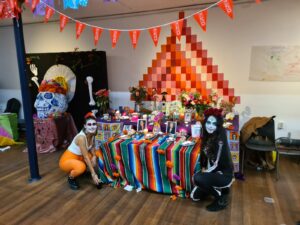 TᕼE ᗪᗩY Oᖴ TᕼE ᗪEᗩᗪ: with Ancestor Cacao, Celebrating Life in solidarity with the Heart of the World and Zapatista land
A Fiesta to honour the Cacao plant and food, remember ancestral wisdom and celebrate LIFE together!
ᑕEᒪEᗷᖇᗩTIOᑎ TᕼE ᗪᗩY Oᖴ TᕼE ᗪEᗩᗪ
Saturday 4th November @Dokhuis (€12 entrance fee presale €15 at the door)
* ℙℝ𝕆𝔾ℝ𝔸𝕄𝕄𝔼 *
Doors open at 17.00 hr
Dinner served at 18.00 hr
Music and theatre performances starts at 19.00 hr
* 𝔻𝕀ℕℕ𝔼ℝ 𝕄𝔼ℕ𝕌 𝕠𝕗 𝕄𝕖𝕩𝕚𝕔𝕒𝕟 𝕋𝕣𝕒𝕕𝕚𝕥𝕚𝕠𝕟𝕒𝕝 𝔽𝕠𝕠𝕕 *
Tamales + Salad +beans+mole
Suggested donation €10
Cacao Drink € 3,50
Meal + Cacao drink €12,50
All food is vegan
==============================================
BUY TICKETS HERE: https://www.eventbrite.com/e/tickets-mexican-day-of-the-dead-solidarity-event-dia-de-muertos-729277818587?aff=ebdssbdestsearch
==============================================
𝕊ℙ𝔼ℂ𝕀𝔸𝕃 ℙℝ𝕆𝔾ℝ𝔸𝕄𝕄𝔼 𝕠𝕟 ℕ𝕠𝕧𝕖𝕞𝕓𝕖𝕣 4
~Actual Situation at the Heart of the World and in Zapatista Land
~Mexican music: Son Huasteco by Zorzal
~Mexican Dance Jalisco grupo Colibri
~ Shaman performance
~ Mariana en Jamal Mexican Songs
~ Abya Yala, Women s Choir
~ Mexican Dance Veracruz grupo Colibri
~Colectivo Carpe Diem. Latinoamerican music with influences of pop, rock, reggae and balcan music.
https://www.facebook.com/profile.php?id=100093678317663
~ DJ Lobo
Dead Altar to make offers for your beloved ones who have past away.
Face painting on donation
Video Exhibition of the Heart of the World Project.
All funds collected in these event are dedicated to Land Liberation at the Heart of the World and the Zapatista Land in Mexico, see below for more info.
This event is made possible thanks to the work of many volunteers, without them this event would not be possible.
==============================================
The funds raised from solidarity meals and cultural events directly support indigenous communities to buy back and liberate ancestral land within their territory on the Sierra Nevada de Santa Marta in Colombia and to support the struggle which continues to go on in Zapatista land, Mexico with the Mexican Government.
In the Sierra Nevada the Arhuacans, the Kogui, the Wiwa and the Kankuama have demarcated their original land with a Black Line, they call this territory the 'Heart of the World'. In 2013 heart was also named the most important concentration of threatened biodiversity on Earth. In this Heart of the World you have all climates, from Snow mountains to Tropical Forest and the Caribbean Sea.
For these Indigenous Peoples if the Heart of the World dies, Planet Earth dies. These Indigenous Peoples want to recover and return these lands to their natural state so they can continue making offerings to Mother Earth in their Ancestral Land. This keeps the land intact and helps the Earth to keep her balance. For the Indigenous peoples from the Sierra Madre we are the Younger Siblings who don't want to listen.
We invite you to LISTEN, and share, and eat, and drink, and remember, and celebrate in solidarity!
Our team's longer term goal is to promote the exchange between Zapatistas, the Tzotzil, Tzetzal, Chol, Zoque, Tojolabal, who have an autonomous- self determined Indigenous Land in Mexico and the Indigenous Peoples from Sierra Nevada, Colombia through our emergent Foundation Pluriversity.