Dok Night – Vegan Food & Symbiopsychotaxicinema MANDABI (1968)
19 January @ 6:00 pm

-

11:00 pm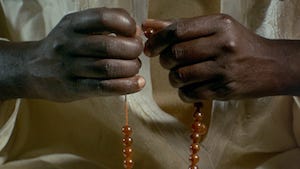 ***
19:00 Affordable Vegan Food by Suzie Creamcheese

***
20:30 Symbiopsychotaxicinema

***
SYMBIOPSYCHOTAXICINEMA
Films for Those Who Care
Presented by Jeffrey Badcock
A series of socially engaged movies, screened once a month on Thursdays. Touching on such hot topics as immigration, homelessness, racism, education, radical gender propositions, the pandemic and gentrification, these films not only explore visionary politics, but are also chosen to stir our imagination and creativity. The essence of cinema is the collective experience, and these screenings are aimed at creating intimate communities again in an increasingly hectic and fragmented world.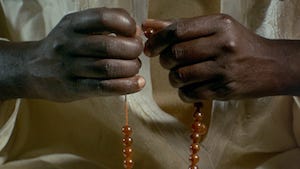 MANDABI   1968
(Money Order)
Directed by Ousmane Sembène
92 minutes
In Wolof with English subtitles
Ousmane Sembène is a seminal figure in African cinema, and was also a profound writer. When he arrived in France, he encountered racism immediately as a worker at a Citroen car factory, and later on the docks of Marseille. When he was inspired to make movies he tried to get into the film school in Paris which rejected him, probably for racial reasons, so he went to study cinema in Moscow instead, where he was accepted. Directly after making an international splash with his biting debut Black Girl (1966), he began working on this movie in his homeland of Senegal. As I mentioned, he was also a writer, and here he takes one of his short stories and conjures up this Kafkaesque flick about postcolonial bureaucracy set in West Africa.
It follows the story of a Senegalese man who has some cash sent to him from Paris, which might seem like an easy task, but in the hands of Sembène it ends up being a wild critique of the modernized world and how money functions in society. But let's be clear, although this film is about a nightmare, it carries with it a breezy sense of humor, warmth and absurdity—it's a razor sharp satire, but with a deep humanitarian edge.
This will be a high-definition screening.
Free screening.